Sodium Thiosulfate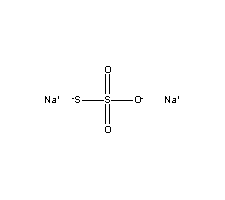 CAS : 7772-98-7

สูตรเคมี : Na2O3S2

ชื่ออื่นๆ : antichlor; HYPO; Hyporice; Sodium hyposulfite; sodium subsulfite; Sodium thiosulfate; SODIUM THIOSULFATE ANYDROUS; Thiosulfuric acid, disodium salt; Thiosulfuric acid (H2S2O3), disodium salt;

มวลโมเลกุล (g/mol) : 158.09774

ค่า pH : .0 - 8.5 (50 g/l, H2O, 20 °C)

การละลายน้ำ : 209 g/l (20 °C)

จุดหลอมเหลว (oC) :

จุดเดือด (oC) :

ลักษณะ : Large, colorless or white, odorless crystals or a coarse crystalline powder are common forms of the pentahydrate of sodium thiosulfate that are available. In warm dry air the crystals give up some of the water of crystallization (above 33°C); in moist air the crystals absorb water vapor from the air.

ข้อควรระวัง : Sodium thiosulfate has low toxicity and swallowing large amounts cause purging. In fact, thiosulfate is an antidote for cyanide poisoning. Keep container tightly closed; use adequate ventilation to prevent breathing dust; store in a cool dry place. Use the normal safe practices of darkroom and laboratory procedures.

การปฐมพยาบาล : If contact is made, flush the eyes and skin with water. If irritation occurs, or large quantities are swallowed, consult a physician.

Note: The anhydrous form of sodium thiosulfate (anhydrous hypo) is also commercially available. The white powder is soluble in water but insoluble in alcohol. The solid takes up water vapor from the air. The anhydrous form saves about 36% by weight in place of the pentahydrate and has a better shelf life in mixed photographic preparations.