Sodium Metabisulfite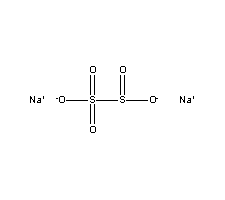 CAS : 7681-57-4

สูตรเคมี : Na2O5S2

ชื่ออื่นๆ : Disodium disulfite; Disodium Salt Pyrosulfurous Acid; Disulfurous acid, disodium salt; Pyrosulfurous acid, disodium salt; Sodium Metabisulfite; Sodium disulfite; Sodium Pyrosulfite;

มวลโมเลกุล (g/mol) : 190.09654

ค่า pH : 3.5 - 5 (50 g/l, H2O, 20 oC)

การละลายน้ำ : 650 g/l (20 oC)

จุดหลอมเหลว (oC) : 150

จุดเดือด (oC) :

ลักษณะ : Sodium metabisulfite is the commercial name for the sodium salt of pyrosulfurous acid, an acid that is known only through its salts.

ข้อควรระวัง : Keep container tightly closed and store under cool, dry conditions as moisture causes caking and oxidation with liberation of sulfur dioxide. Use with adequate ventilation. Do not inhale dust or fumes, Keep away from acids because sulfur dioxide may be released, Avoid contact with eyes or skin. Do not swallow.

การปฐมพยาบาล : If inhaled, remove to fresh air. If contact is made with eyes or skin, flush with plenty of water, being certain to irrigate the eyes thoroughly. If swallowed, call a physician immediately.