Pyrogallol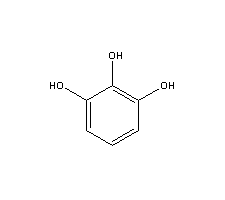 CAS : 87-66-1

สูตรเคมี : C6H6O3

ชื่ออื่นๆ : 1,2,3-Benzenetriol; 1,2,3-Trihydroxybenzene; Benzenetriol; C.I. 76515; C.I. Oxidation Base 32; fouramine base ap; Fouramine Brown AP; Fourrine 85; Fourrine PG; Piral; Pyro; Pyrogallic acid; Pyrogallol;

มวลโมเลกุล (g/mol) : 126.1116

ค่า pH : 4 - 5 (50 g/l, H2O, 20 °C)

การละลายน้ำ : 400 g/l (20 °C)

จุดหลอมเหลว (oC) : 130 - 132

จุดเดือด (oC) : 309

ลักษณะ : The pure compound is an extremely light, fine white powder of very fine crystals. Because the fine crystals tend to float into the air at the slightest movement of the air, a crystallized form (large colorless crystals) is available, causing less trouble to weigh and mix than the finer crystalline, fluffy needles. Fairly stable in tightly closed containers but turns gray on exposure to air and light.

ข้อควรระวัง : Pyrogallol is considered poisonous because it is harmful if absorbed through the skin or swallowed. Avoid contact with eyes, skin, or clothing. Wear safety glasses to protect eyes and rubber gloves for hand protection. Keep container tightly closed and protected from light. Use with adequate ventilation, and use, if possible, the crystallized form to minimize danger of inhalation and skin contact. Wash thoroughly after handling. Avoid contact with low-sulfite alkaline solutions of pyro, such as a developing solution, as such solutions stain the skin brown and risk poisoning through absorption through the skin.

การปฐมพยาบาล : If contact is made, flush the skin and eyes with plenty of water for about 15 minutes. If extensive areas of the skin have been contacted or for the eyes, consult a physician. If inhaled or ingested, get medical attention immediately, as pyrogallol can cause degeneration of the kidneys and liver as well as removing the oxygen from the blood (resulting in death).