Phenidone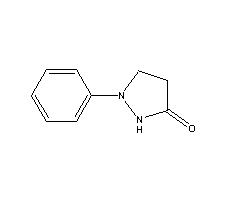 CAS : 92-43-3

สูตรเคมี : C9H10N2O

ชื่ออื่นๆ : 1-Phenyl-3-pyrazolidinone; 1-Phenyl-3-pyrazolidone; Graphidone; Phenidone A;

มวลโมเลกุล (g/mol) : 162.1908

ค่า pH :

การละลายน้ำ : ละลายได้
* สามารถละลายได้ใน methanol ปริมาณ 0.1g/ml

จุดหลอมเหลว (oC) : 122 - 123

จุดเดือด (oC) :

ลักษณะ : Odorless leaflets or needles are obtained from benzene but usually supplied as a fine, white powder.

ข้อควรระวัง : Compound has low oral toxicity and has not caused dermatitis. Keep container closed and avoid breathing dust. Use with adequate ventilation. Wear safety glasses and gloves for protection against solutions which are usually alkaline.

การปฐมพยาบาล : If contact of the solutions is made with the eyes or skin, flush with plenty of water. Call a physician if there is eye irritation or if swallowed.