Metol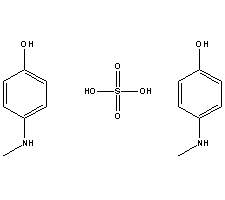 CAS : 55-55-0

สูตรเคมี :  C14H20N2O6S

ชื่ออื่นๆ : 4-Methylaminophenol sulfate; p-Hydroxymethylaniline sulfate; 4-Methylaminophenol sulfate; 4-(methylamino)phenol sulfate (2:1 salt); Armol; Elon; Enol; Genol; Graphol; ji-hydroxymethylaniline sulfate; LIon; Methyl-p-aminophenol Sulfate; Metol; Monomethyl-p-aminophenol sulfate; N-methyl-p-aminophenol sulfate; N-methyl-4-hydroxyaniline hemisulfate; Photol; Photo-Rex; Pictol; Planetol; Rhodol; Satrapol; Scalol; Verol; Viterol;

มวลโมเลกุล :  344.3818 g/mol

ค่า pH : 3.5 - 4.5 (50 g/l, H2O, 20 oC)

การละลายน้ำ :  47.9 g/l (15 oC)

จุดหลอมเหลว (oC) : 260

จุดเดือด (oC) : ?

ลักษณะ : The free base, 4-methylaminophenol, is a crystalline compound, จุดหลอมเหลว 87°C, that is unstable in air and light, so that the compound is handled as a hydrochloride or sulfate salt. The white, odorless crystals of the sulfate salt (such as the commonly available EIon, Metol, and Pictol products) are fairly stable but may discolor in air in time,

ข้อควรระวัง : Repeated and prolonged contact can cause skin irritation and allergic skin reactions, reported to be not an inherent property of the compound but due to the presence of an impurity (N,N-dimethyl-p-phenylenediamine) that occurs in some preparations. Use with adequate ventilation and avoid breathing the dust. Keep container tightly closed and protected from the light. Avoid contact with the eyes, skin, and clothing. May be harmful if swallowed. Wear safety glasses or goggles and rubber or similar impervious gloves when handling the compound or its solutions. Wash thoroughly after use.

การปฐมพยาบาล : If contact is made with the skin or eyes, flush with plenty of water. Get medical attention for skin irritation or dermatitis. If swallowed, induce vomiting by giving a glass of lukewarm salty water (2 teaspoonfuls of table salt per glass). Call a physician at once for further treatment.