Kodalk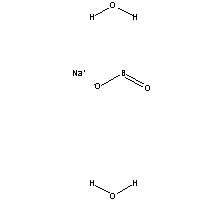 CAS : 10555-76-7

สูตรเคมี : BNaO2 · 2H2O

ชื่ออื่นๆ : Kodak balanced alkali; Sodium Metaborate Dihydrate; Sodium metaborate tetrahydrate;

มวลโมเลกุล (g/mol) : 101.82897

ค่า pH :

การละลายน้ำ :

จุดหลอมเหลว (oC) :

จุดเดือด (oC) :

ลักษณะ : When a solution containing borax and an amount of sodium hydroxide just in excess of the theoretical value is cooled, the tetrahydrate is the stable phase in contact with the saturated liquid between 11.3 and 33.6oC; the dihydrate is the stable form between 33.6 and 103oC. Anhydrous sodium metaborate is obtained by fusing borax and sodium carbonate. The tetrahydrate, is a white, odorless, crystalline compound soluble in water and methanol.

ข้อควรระวัง : Keep container tightly closed as exposure to the atmosphere may considerably reduce the activity of the compound. Use with adequate ventilation and do not inhale the dust. Avoid contact with eyes, skin, and clothing. Wear safety glasses or goggles and rubber or similar impervious gloves. Do not swallow.

การปฐมพยาบาล : If inhaled, remove from exposure. Immediately flush with plenty of water if contact is made with eyes or skin. After irrigating the eyes thoroughly, call a physician or eye specialist. If swallowed, induce vomiting by having the person drink a glass of lukewarm, salty water (one tablespoonful of table salt to a glass of water). Call a physician at once.